In our lives, even if it doesnt feel like that we experience changes and different phases which are often marked by important events such as pregnancy or menopause. This involves hormonal changes as well.
I feel privileged to use my knowledge and experience as a bodyworker to guide and support you during these important moments in your life.
Watsu, Shiatsu and Foot Reflexology focus on the flow of energy in the body and the clearing of energetic blockages. The Reiki always flows, in all my treatments. Because each treatment is tailored to your needs, all these treatments are applicable and beneficial if you are pregnant or want to become pregnant.
Bodywork when you're trying to become pregnant
Are you hoping for a baby, but is conceiving proving to be more difficult than you had hoped? Sometimes it's just not possible to get pregnant quickly. You may have been trying to get pregnant naturally for a while. Perhaps you have already started an IVF or other fertility program, or are considering starting one. Whatever point you are at, if you would like to become pregnant, I can help you by supporting you with various treatments.
Bodywork during IVF
IVF can be mentally and physically taxing. If you are starting or going through an IVF process, you can always contact me for support. I'll be your ally during these, sometimes tough, procedures. My treatments can relieve the emotional and physical discomfort and might improve the chances of a successful conception.
Bodywork during pregnancy
You are carrying a new life within you. Your body changes, gains weight and increases in size. This unique experience can at times be physically and emotionally demanding. The hormonal balance in your body is essential for your health during pregnancy. That is why a complementary treatment is also very suitable as preventive health treatment before or during pregnancy. Hormonal issues can also be treated by means of Shiatsu, Foot Reflexology and/or Watsu.
Treatment for "overdue"
If you are overdue or for some reason you are expected to give birth before the due date, we can use Foot Reflexology and Shiatsu to try to stimulate the delivery. I would be happy to tell you more about the possibilities.
Pregnancy & bodywork
During pregnancy, your body is hard at work. Many changes are taking place inside your body. Shiatsu, Foot Reflexology and Watsu treatments can help you relax. Take some time to bond with your unborn child and allow yourself a moment to relax. Shiatsu, for example, helps to optimise your health during this important time and to relieve physical and mental complaints.
My treatments can provide relief from pregnancy discomforts such as:
~ Heartburn
~ Pain in back, muscles and pelvis
~ Fatigue
~ Constipation
~ Swelling of the legs
~ Stress
During your pregnancy, healthy food, yoga-like movements; DO-IN, treatments such as Watsu, Shiatsu and Foot Reflexology all contribute to a healthy mind in a healthy body ('Mens Sana in Corpore Sano').
Bodywork after childbirth
After the birth of your baby, your body has to recover, even if the birth was 'easy' or 'quick'. Allow yourself time to regain your strength and balance. My treatments support the self-healing capacity of your body.
PLEASE NOTE! Treatment from a foot reflexology, Watsu or Shiatsu therapist is a great addition, but never replaces the treatment by an obstetrician or gynaecologist. Always consult with your supervising expert before undergoing one of my treatments.
C
hildbirth class: 'From Partner to Parent'
C
hildbirth class: 'From Partner to Parent'
by Alchemy of a New Life (Lievnat and Oda)
A complete course in preparation for pregnancy, delivery and postpartum
Alchemy represents change. During pregnancy you, just like your baby, experience enormous growth. After all, in addition to being partners, you are also becoming parents. A completely new role, with different responsibilities. During the 'From Partner to Parent' course, we will approach the transition around childbirth and parenthood in a new, unique, holistic way.
Alchemy of a New Life's course 'From Partner to Parent' covers the following topics:
Pregnancy: physiology, exercise and self-examination
The birth system: social and cultural significance
Childbirth: a transformative experience
Birth of a family: from partner to parent
Sensuality and sexuality: why connection is important
Postpartum: the fourth trimester
Group course
'From Partner to Parent' can be followed in a group, together with other couples. The group size will be limited to a certain number of participants (according to the Covid regulations valid at the time). The group course consists of 6 weekly evening meetings (18:30 – 21:00) and takes place in Amsterdam and optionally in The Hague.
In addition to the 6-week group course, we offer a weekend group course (Saturday 18:00 – 20:00 and Sunday 10:30 – 17:30). The 6 topics mentioned above will still be at the core of this course, but they will be discussed in a different structure.
Private course
It is also possible to follow the course  'From Partner to Parent' privately as a couple. The private course is specially designed to meet the needs of partners wanting to follow a more intimate birth preparation course together. In this course, consisting of 3 sessions of 2.5 hours each, we cover the same information and practical tools we discuss in the group course. These sessions however, are more tailored to your needs. The private course can take place at your home or in Oda's practice. We recommend meeting once a week for 3 weeks, but are flexible with your time constraints and wishes.
Please contact me for more information about prices and dates, or check alchemyofnewlife.nl.
M
ovement Experience: Prenatal Yoga
M
ovement Experience: Prenatal Yoga
A unique combination of prenatal yoga, Do-In* (Japanese Yoga), touch therapy (Shiatsu-inspired) and guided meditation to prepare for childbirth and to feel fit during your pregnancy.
More than just Prenatal Yoga
Would you like to move more during your pregnancy? To feel lighter, more connected to yourself, your body and your baby? This 1-on-1 Prenatal Class offers a unique combination of prenatal yoga, Do-in, Shiatsu and guided meditation to prepare for childbirth and to feel comfortable in the now, in your pregnancy.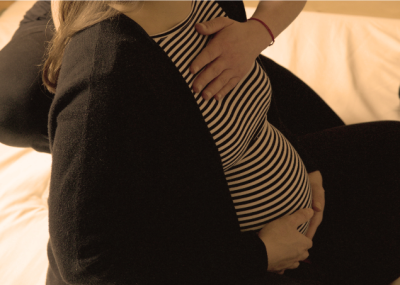 We'll start with an informal conversation and a cup of herbal tea, followed by meditation and stretching exercises, in which I will join you. It's an experience in which you become more aware of the changes in your body and your life. This is time for yourself, time to relax and to let your energy flow again.
More About the Movement Experience Class
The 1-on-1 Movement Experience Classes take place in my practice.
The classes are tailor-made and adapted to your needs.
We'll start the session with a quiet conversation and drink tea. We could, for example, draw a tarot card followed by a guided meditation and a few stretching exercises. I'll sit opposite you and will perform the exercises together with you. During 'Explore Movement', accompanied by music, you can stretch and dance and feel what your body needs. We finish with a conversation about your experiences and the way you are feeling now.
We'll take our time and do whatever it is you need at that moment. An Experience Movement class lasts between 1 and 2 hours.
Sessions usually take place weekly in the last five weeks of pregnancy, but this depends entirely on your needs.
The Explore movement Classes take place in my practice in The Rub Amsterdam, at Kromme Mijdrechtstraat 100 HS. Would you like to make an appointment or would you like to receive more information first? Please contact me!
Read her experience:
"I practiced pregnancy movement with Oda throughout my entire pregnancy, from the very beginning until week 41! The practice is absolutely amazing. It helped me take a moment to myself, breath, relax, and truly connect to my body during this special time. Oda was very attentive to my needs at every stage of the pregnancy, and the movement helped me feel stronger and more agile. Oda creates a space for both the body and soul, to appreciate and celebrate the magic of pregnancy and at the same time share the challenges and concerns. After the classes I slept better and felt lighter and calmer. Oda's empathy, experience as a doula and real understanding of the women's body make for an empowering and spiritual experience through movement".
 *(Do-In is an age-old oriental movement theory aimed at staying healthy, reducing stress and living in harmony with yourself and your environment. 'Do' means 'opening channels and facilitating the flow of energy along certain routes' .'In' means 'stretching and moving the limbs to achieve this goal'. Do-In originates from China (about 500 BC). The movement theory was further developed by Japanese Shiatsu master and psychologist Shizuto Masunaga).
B
irth preparation for two
B
irth preparation for two
Private coaching sessions for parents-to-be
'Birth preparation for Two' is a detailed, tailor-made session for expecting mothers and their (birth) partner. During this private session there is plenty of time for your questions. We create space and understanding for each other's expectations. We'll pay a lot of attention to techniques that can be used by the partner to support the expecting mother and the baby.
These two (you both) on- one (me) sessions are also very suitable if you are looking for more in-depth information on certain topics after following the course 'From Partner to Parent' by Alchemy of a New Life. Or if you have attended any other childbirth preparation class (such as hypnobirthing) and still feel a bit unsettled. 'Birth preparation for Two' is also a great option if you're interested in learning more about postures and movement during pregnancy.
About 'Birth Preparation for Two'
The sessions take place in my practice or at your home, depending on your preferred location.
The sessions are tailor-made and adapted to your needs.
I will teach you different techniques for offering support during pregnancy and childbirth. This includes several Shiatsu techniques and postures and working with the Rebozo.
Each 'Birth preparation for Two' session will last around two hours. We can schedule sessions as often as you like.
'Birth preparation for Two' takes place in my practice in The Rub Amsterdam (at Kromme Mijdrechtstraat 100 HS), or at your home. Please contact me if you'd like to make an appointment or if you would like to receive more information.
Experience your pregnancy together with your partner in warm water
Prenatal Watsu for two is a beautiful, relaxing experience for you as a pregnant woman together with your partner. Being together in warm water, being held and carried: a special experience, during which you feel light and free. A unique moment that will bring you even closer together.
I'll be there to guide you and to show your partner how to carefully carry, hold and move you.
Trust your partner, relax and enjoy this wonderful experience together.
Lees haar verhaal:
"Just a few days before my due date, I enjoyed the most relaxing time of my whole pregnancy: a watsu session with Oda and my partner. Once I was in the hot water, I let myself go into their arms and felt like a baby myself. What an unforgettable experience! I can only recommend it to pregnant women, and it is also a very nice experience to have with your partner, before your baby arrives".
Marie
"The greatest privilege of a human life is to become midwife to the birth of the soul".
John O'Donohue
This quote means a lot to me. It makes me happy when I am invited to attend a birth. I always feel privileged to be there, to be part of the team that witnesses the birth of a soul. Your baby.
I am not a midwife, but as a professionally trained bodyworker I am there for you, during the preparation for birth and when you are giving birth. With guided meditations, touch and movement, anything you need to feel good.
Doula for you, your baby and any partner
The women I treated in my practice regularly asked me to attend their childbirths. In order to provide the best support I could, I started training to be a Doula with Nicola Goodall at the Red Tent UK in 2019. I have also attended many workshops with midwives and doulas who traveled to Amsterdam from all over the world. In their training courses, and by listening to them I have learned a lot about the different ways in which I can support you as an expecting mother.
The expert women whose workshops I attended between 2013 and 2020 are:
Ina May Gaskin
Angelina Martinez
Remiro Romero
Gail Tully
DR. Sarah Buckley
Penny Simkin
Elisabeth Davis
Suzanne Yates
More confidence in your body's capacities
My approach to pregnancy and childbirth is holistic: with attention to your body, mind, soul and emotions, which are all connected. Your body has all the knowledge it needs to bring your baby into the world. Birth can happen naturally and spontaneously. Thanks to our preparations, a process in which you get to know yourself and your body better, you can trust yourself and your body when it's time to birth your baby. Sometimes it is enough to know I am there and to hold your hand, and sometimes Shiatsu based touch, rebozo massage or homeopathy can help you feel better. I bring all my knowledge with me and will be there for you.
The doula process
Initial meeting 
It's important for us to be on the same wavelength. We will, after all, witness one of the most special moments of your life together. That is why I would like to invite you to a free and informal first meeting. This meeting is free of charge and of obligations.
Prenatal sessions (minimum of 3 sessions, preferably once a month)
Prenatal sessions take place in my practice or at your home. The sessions are a combination of conversation, coaching and therapeutic touch. I might also apply techniques used in reflexology and shiatsu that are beneficial throughout your pregnancy. During these prenatal sessions I get to know you and your body well. This helps me see exactly what it is you need while delivering your baby and what you like and don't like. It's great if your (birth) partner can be present at the prenatal sessions, so we can get to know each other and work together as a team during the birth. I will also teach your partner how to use therapeutic touching techniques and the rebozo, so your partner can support you whenever you need it. You can discuss anything that is bothering you or that is getting in the way of a beautiful delivery. We can use various communication techniques, such as conversations, focusing and NVC in our conversations.
24/7 on call
I will be on call 24/7 from the 37th week of pregnancy to the delivery of your baby.
Childbirth
During the delivery I will be present at all times. Because a birth cannot be planned, I will adjust my support where necessary. Even in unexpected circumstances, such as a transfer to the hospital, I will remain present if you'd like me to. Your autonomy is important. If you want me there, I'll be there. You are not alone!
Postpartum home visit
After your baby is born, I will visit you at home for a follow-up. We'll discuss how you experienced the birth, how you are feeling now and whether there is anything you need in your new role as a mother.
Payment
Half of the payment will be invoiced before week 37, the other half will be invoiced after birth.
A maternity nurse or 'kraamzorg' usually will come to your house to support you for a few days after your baby is born.
It's great of course to have a maternity nurse there offering practical help: taking care of you, explaining how to care for the baby, welcoming visitors and taking on some household chores. But selfcare is very important right now.
You gave birth. Your body is still recovering, your life has changed, and you need to take care of this new baby. You become a different version of yourself.
As a Postpartum Doula I'm here for you
In the weeks after your baby is born I will visit you several times. Are you unsure about something? Let's talk about it. I will try to answer any questions you may have and will advise you on options that I know about. You might be feeling tense and a foot reflexology treatment could help you to relax or to feel better. Maybe a guided meditation or a massage to release tension and reconnect with yourself will be beneficial. I'm here to support you physically, emotionally and possibly also spiritually in your new life as a mother. And I am here for your baby and possible partner as well. To help you enjoy this new phase in your life together as much as possible.
About the Postpartum Doula
Loving presence.
I can visit you in the first days after the birth, or a little later, depending on what works for you. We will plan the visits together. We can create a postpartum plan before birth, as a preparation and as guidelines.
The duration of my visits is about two hours but this can be extended up to four hours.
We will work on what you need when I'm there. I'm flexible!
If you would like a healthy, nutritious meal to be cooked for you, I can ask my lovely partner to do that for you (he used to be a chef). I can also share tips and recipes. Costs for food shopping are not included.
Caring for the mother means good care for the baby.
Supports your recovery – this will benefit you for the rest of your life.
As a postpartum doula, I am available in Amsterdam and the surrounding area.
I can offer you the following support (and more):
Cleansing herbal foot bath
Seated baths
Help with self-confidence in new parenthood
Relaxation exercises/guided meditation/breathing exercises/affirmations
Tips & Tricks
Local references
Restorative moxa treatment
Healing abdominal massage
Foot reflexology
Vaginal steam bath/Yoni steaming
Relaxing back/head/neck/shoulder massage
Healing body massage
Comforting rebozo wrap
Allow yourself warmth, support and rest during this intensive time.
Are you looking for a Postpartum Doula in Amsterdam? Or would you like to know how I can help you? Please contact me.
T
he Closing of the Bones ceremony
T
he Closing of the Bones ceremony
The Closing of the Bones ceremony is an ancient postnatal ritual, celebrating a new life cycle and closing a previous one, such as the circle of fertility and the birth of a child. It's a wonderful way to celebrate your body's amazing abilities (including – and especially – after a stressful birth experience).
Apart from that, it's a way to create a moment of calm and reflection in the middle of the rollercoaster of emotions we experience during motherhood.
The 'Closing of the Bones' is not only a spiritual/emotional experience, but also a physical one: the bones and organs are invited to return to their original place in your body.
Postpartum Rituals
Most traditional cultures in the world paid a lot of attention to the vulnerability of new motherhood. In traditional cultures, often the first forty days of the postnatal period represent a healing time. One feels the need to care for the new mother so that she can recover from the growth and birth of her baby. There are different traditions, such as preparing nutritious food, a period of confinement or some kind of body work, ranging from massage to wrapping the mother in fabric. All with the aim of helping the new mother regain her strength and energy. In the past, this used to be tradition in our Western world (like the use of a 'closing sheet' for example), but this has been long forgotten. We would like to restore this beautiful, healing tradition.
The 'Closing of the Bones' technique
The 'Closing of the Bones' is one such technique, whose origins date back to Mexican, South American civilizations. This ritual includes, for example, a massage with warming oils, a bath or yoni steaming. But it's mainly focused on the nurturing, cocooning use of a rebozo scarf. During the wrapping with the rebozo, an actual physical element of closing the bones occurs. Furthermore, there's an emotional and spiritual element: the ceremony provides a safe space for the mother to feel cared for and to release emotions related to birth and motherhood.
What does a 'Closing of the Bones' ceremony involve?
We'll start the 'Closing of the Bones' ceremony with a warm herbal bath. If you don't have a bath, we'll prepare a vaginal steam bath. Next, we'll use a traditional rebozo scarf to rock and stimulate your hips and body. Finally, we'll wrap the rebozo tightly around your body, realigning your bones, abdominal organs and energy systems. You may then rest for a while in the warmth and comfort of the rebozo. In a quiet, meditative state you can experience moments of connection. Only when you feel ready, we will loosen the rebozo and you can relax while enjoying a delicious herbal tea. If you wish, you can share your experiences with us.
What is the best moment for the 'Closing of the Bones' ceremony?
Any moment is suitable, if it feels right to you. Postpartum is the time between immediately after birth and the end of our lives. The ceremony can therefore take place at any time after the birth, but it's a beautiful way to end the first forty days postpartum. If you would like to experience the ceremony in that period, we recommend doing so before you go back to work or start other activities. It's lovely to celebrate a new beginning around the new moon. Or to celebrate the conclusion of something around a full moon. But you can enjoy the 'Closing of the Bones' ceremony any time you are ready.
About the 'Closing of the Bones' ceremony
The technique stimulates blood circulation, which in turn cleanses and renews.
The technique also stimulates the immune system, helps to strengthen muscles and tissues and can stimulate the flow of breastmilk.
The ceremony nourishes the whole body, but especially focuses on the pelvic area.
Our hips support the weight of the spine and head. According to some belief systems, they are the seat of unresolved emotions and trauma, which can be felt on the hips as 'crystals'. Those 'crystals' need to be loosened and released during the session.
The ceremony is therefore also suitable for concluding a period after a traumatic delivery, however long ago that may have been, in a different way.
I'll perform the 'Closing of the Bones' ceremony together with doula Lievnat Faber. We are a great team and we both learned the technique from Angelina Martinez, the traditional Mexican obstetrician.
We will come to your home and take all the time we need. Preferably no children are present during the ceremony so we can focus on you and your needs. The 'Closing of the Bones' ceremony takes approximately 2 to 3 hours.
Would you like to know more about the 'Closing of the Bones' ceremony or make an appointment? Please contact me.
Read her story: "I had a traumatic birth and after birth. I thought it would go away with time but it didn't. I first heard of the "Closing Bones Ceremony" from Oda, who helped me throughout pregnancy and postpartum. 2 years after the birth of my daughter I decided I should do something to help me heal and find closure with birth and the negative feelings that didn't go away.
Oda and Lievnath came to my home and they created a beautiful ceremony. We talked about my birth story, the house was full of beautiful aromas, the bath filled with warm water and flowers. After the bath, they performed the closing of the bones ceremony with the Rebozos. We ended with a warm drink and I could share how I felt about the experience.
I felt safe, loved and honored.
Thank you Oda and Lievnath for helping me find closure with birth and make peace with my body and mind!"
Daniela